Originally commissioned by the Welsh Books Council as part of the Roald Dahl 100 celebrations, this show was created with the specific aim to encourage children to read.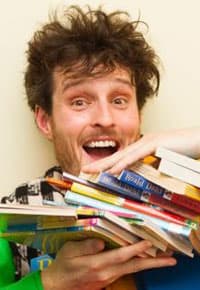 Meet Alf – a colourful, intriguing character who LOVES to read. In his unique multicolour coat, covered with pockets for his books, he will share with the children his love of reading, and will reveal the adventures that happen to him when he starts to read. His absolute favourite author is Roald Dahl.
Book by book, Alf, in his unique eccentric way, will present some of Dahl's stories and read his favourite parts. He will then let his imagination take over and will demonstrate how reading these stories makes him want to do other crazy things – this is when the fun starts!
Presenting Welsh history with fun and excitement.
Book Roald Dahl – Imagine That!