Why would anyone want to walk 26 miles without shoes?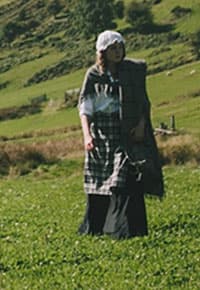 She was a poor school girl, who wanted something important – one of the first Welsh language books available for ordinary folk – The Bible. Sometimes a little girl can make big things happen. Come and meet this brave and determined 16 year old – Mary Jones.
Learn more about the Welsh girl from the foot of Cadair Idris, who left her footprint all around the world by walking from Llanfihangel-y-Pennant to Bala.
This show is suitable for both Foundation Phase and Key Stage 2 learners.
An activity pack, full of ideas for further study, is available to accompany the performance – visit our shop to find out more.
Presenting Welsh history with fun and excitement.
Creative team
Writer
Sian Melangell Dafydd
Gallery
Book Mary Jones – My Footprint